Irena * 28 April 1928 Kaunas, Lithuania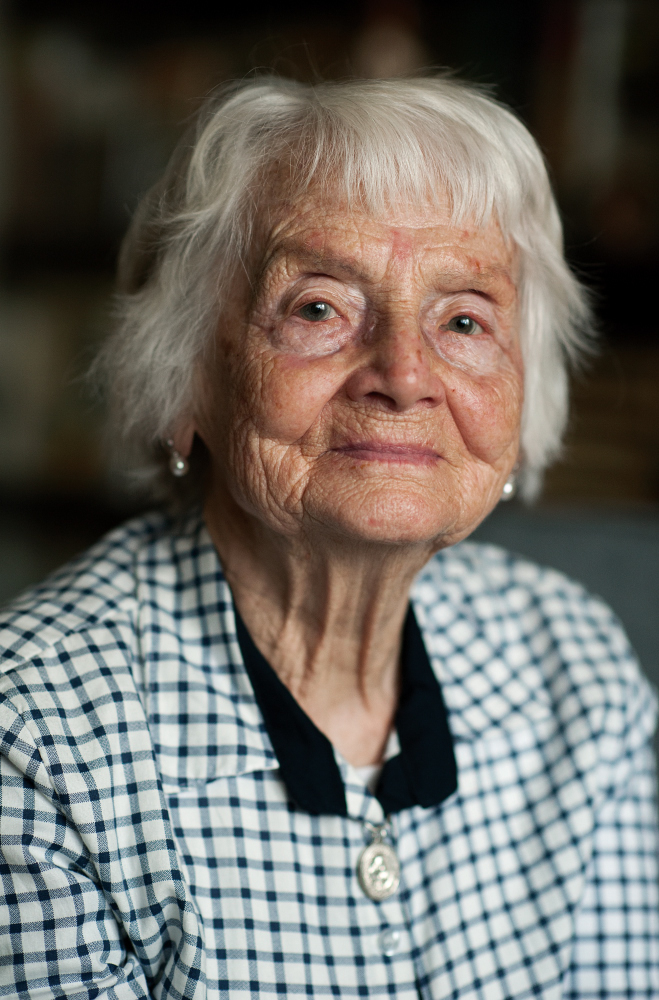 'In the night of 14 June 1941 – I was 13 at the time – soldiers came to our house. We thought we were going to be shot dead. But we were brought to the station, where my father was immediately separated from us. We were crammed into the wagon with many others, left crying and confused. It was crowded, terribly hot and we were hungry and thirsty. Many people fell ill, and some even died.
After weeks we arrived in the Altai where my mother and brother had to work in the woods. We stayed there from 1941 to 1942. Then we were taken by train and boat a long way up to the North, to Tit-Ary, an island in the Lena delta by the Laptev sea in the polar region. When we arrived there was nothing for us. No house, no tent, no food, nothing. We had to build our own shelters with materials we found in nature. At night I was afraid to go to sleep because there was snow on the ground, and I was scared of freezing to death. Winter would last for 10 months, with temperatures dropping to 40 or 50 degrees below zero.
I had to work for 12 hours a day in the children's brigade, collecting firewood for the NKVD. My brother had to fish and my mother had to hack tree trunks out of the ice and drag them onto the bank. In the first year, there was only a little bread and we were perpetually hungry. I fantasised about food all the time. Many people died or got scurvy from the inadequate diet. In 1946, my mother died. My brother and I felt desperate and adrift. Who would look after us? My father was executed in a prison in 1942. We were on our own now. We survived the deportation and returned to Lithuania but since my childhood I've never really be able to relax. I have bad dreams and I still miss my parents very much.
In 1989 I went back to the Latev sea on an expedition. We wanted to bring home the remains of our family members. We found their graves including my mothers. When we opened the coffin and I saw my mother, I recognised her immediately. Her body was dry and preserved. My heart was pounding wildly, my emotions exploding in all directions. I was consumed by grief and happiness all at the same time. Can you imagine how it feels as a sixty-year-old woman to look your forty-year-old mother in the face, frozen in ice? I could bring her home and bury her in Lithuanian soil.'
Antanas *1946 Altai Krai, Russia ( Lithuanian national)
'My parents were deported to Irkutsk in 1941, where they first met. They were both already married but had been deported without their partners. They had no idea if they ever would return home and so they started a new life with each other. Here in the Altai. We never talked about their decision. My mother me and my brother Lithuanian and how to read and write in our mother tongue. My wife and me visited relatives in Lithuania a few times. That was wonderful. I met my half-brothers and half-sisters – the children from my parents' first marriages. It was very special. Part of me is Lithuanian, but I grew up in the Altai region, and it has become my home.'

A farmer in a valley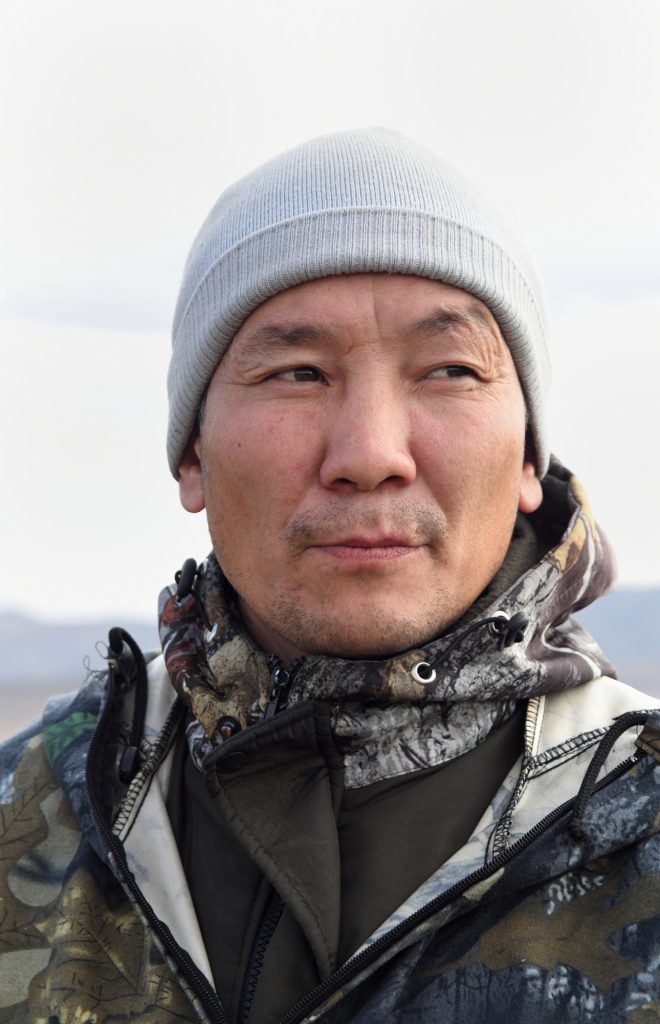 'Before I was born, there were many Lithuanians in this area. Most of them returned to Lithuania end of the 50's. The Lithuanians worked at the kolchoz here and lived in barracks near our farm, but there's no trace of the barracks now. There's a grave nearby in the valley, where 14 Lithuanian children are buried.'

Jekaterina *1932, Yakutia, Russia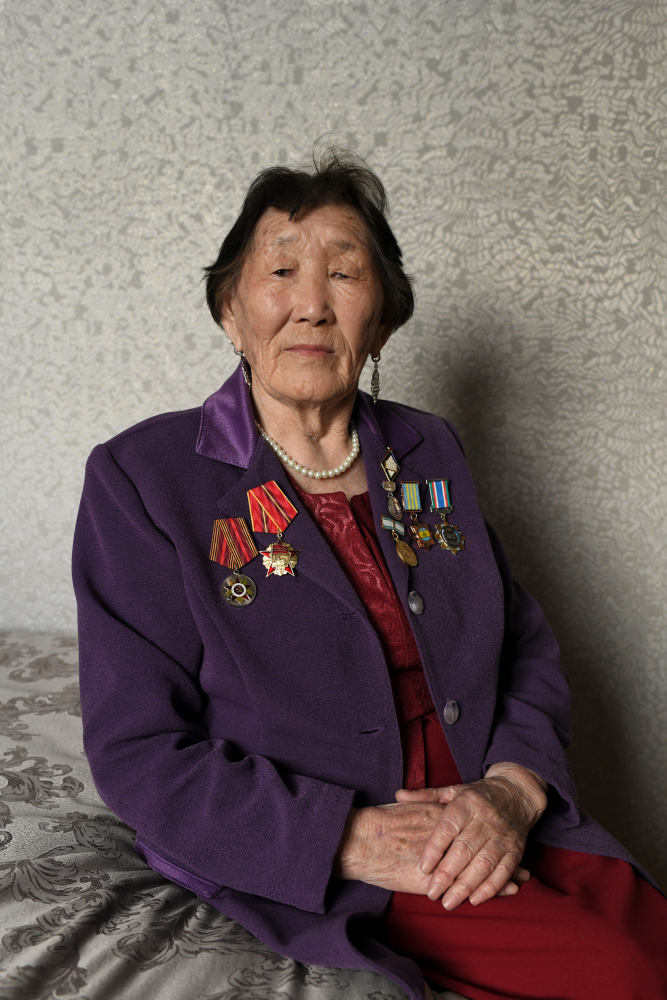 'In 1942 my family and I were deported to Kumatsch-Surt. When the war broke out, a fishing industry had to be set up in the north, with the motto: 'Fish for the front'. 41 of 84 kolchoz were send to the North, men, women, children and elder people. We had to walk 200 kilometers to the river, and on the way my mother gave birth to my little sister. Once at the river, we had to wait 20 days for the boat that would take us to the North. We had no food and it was already very cold.
When we arrived at Kumatsch-Surt we had to build our own balagans (huts). Nearby lived Lithuanian women and children in smaller huts. We helped each other. My mother worked together with the Lithuanian women at the fish processing plant and I sometimes played with Lithuanian children.The hardest thing to deal with was the lack of food. It was bitterly cold, but the hunger was worse. I was constantly hungry. People kept dying. Because they could not be buried in the frozen ground, they were thrown into the river or placed in cracks between rocks or in pits. We would sometimes see bones blown about by the wind while we were out playing.
I was terrified that I would die there too. I wondered whether I would be buried or that my bones would also be wind-tossed.
We never talked about those times under the Soviet regime. It was forbidden. 74 years have now passed. By the time we dared to talk about the subject after the fall of the Soviet Union, most of the old people had already died. Many memories were lost that way.'